Marine's Dream
Photo by Lani Muche Copyright 2000
Award Winning FG-1D Corsair Restored by Ray Dieckman
Reserve Grand Champion, Golden Wrench Award, Oshkosh 2000
Rolls Royce Award, People's Choice Award, Reno 2000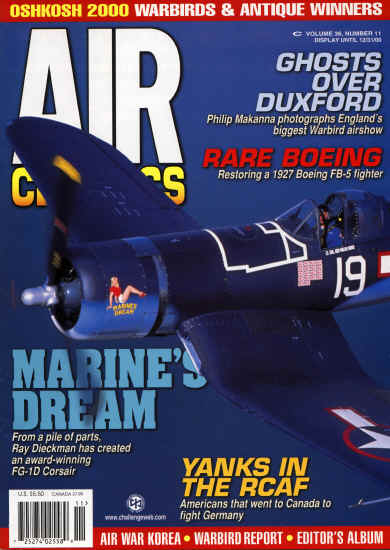 Reprinted with permission: ©Air Classics Photo by Michael O'Leary


Copyright Frank Mormillo
Corsair over Newport Beach

Copyright Frank Mormillo
FG-1D Off the Beach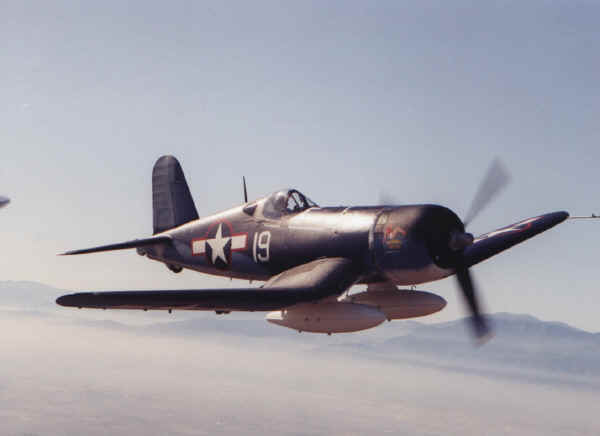 Copyright 2001 Lani Muche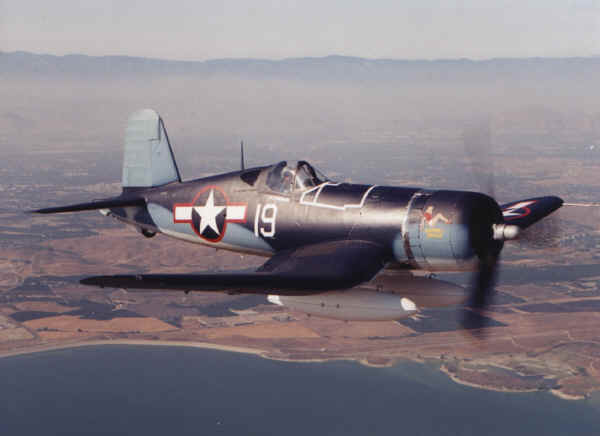 Copyright 2001 Lani Muche



Copyright 2001 Lani Muche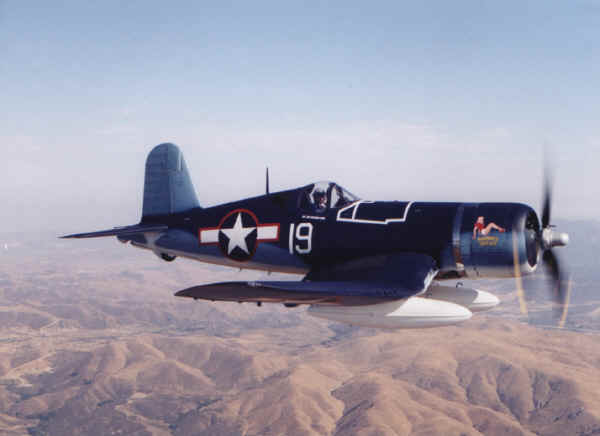 Copyright 2001 Lani Muche


This project began in 1995. The pile of parts was trucked to Chino, California from Michigan in the middle of the winter. It required a complete ground up restoration, with many parts missing and many others needing major restoration. Fabrication of parts from blueprints and non-serviceable parts as patterns produced first rate usable (and award winning) results. Recognizing the potential of the aircraft, many businesses donated services and materials. The original engine was changed for a Pratt & Whitney R-2800-79 to eliminate the three stage supercharger and leave more room for accessories. The aircraft is finished with the markings of third ranking Marine Corps Corsair Ace, Captain Ken Walsh. Unfortunately Capt. Walsh passed away before Marine's Dream was finished.
More to come...
SPECIFICATIONS
GOODYEAR
FG-1D CORSAIR
Span
41 ft.
Length
33 ft 4 in
Height
16 ft 1 in
Wing Area
314 sq ft
Empty Weight
8695 lb
Gross Weight
12030 lb
Max Weight
13120 lb
Fuel
537 gal
Speed
425 mph @ 20,000 ft
328 mph @ Sea Level
Rate of Climb
3120 fpm
Range
500 miles with ordnance load
Powerplant
Pratt & Whitney
R-2800-8W
2250 hp
The Perils of the Corsair
1st Lt. Jack Callahan, USMC on a shortcut to the hangar deck
USS Bennington, somewhere in the South Pacific during WW II




Photo © Lani Muche
F4U Corsair
Planes of Fame, Chino, California
This page still under construction --- more to follow.