Warbirds at Cable Airshow June 29th, 2002




Friday Night Dinner



Real South Pacific Entertainment The Luau Dinner Spread Under Camoflage





The Cactus Club on Guadalcanal Some Serious Decorating took Place!





Age Wins Out Over Youth ! Julie Keeps Tabs on Panda




This is Where The Action Is! The Silver Grill Bushwacker & Bulldog: Both Got "Leied"




Gee, It Seemed Like A Good Idea To Me Our Honored Guests



Bob Cable & Shanty Callahan Checking Out The "Fork-Tailed Devil"

Airshow Day
Bearcat Steve Fires Up Bearcat Steve On The Way To Fame and Glory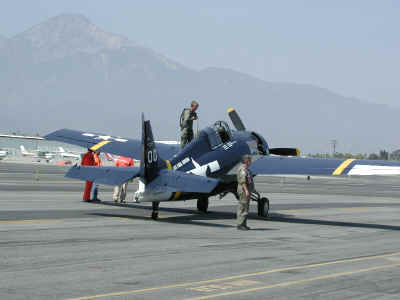 Doug Schuster and Jim Munn Wow the Crowd Carter Teeters Straps On The Wildcat
Bearcat In The "Hover" Chuck Wentworth Fires up the FG-1D Corsair
"Smokey Teeters" Corrosion Proofs The FM-2 Corsair In The Show Pass

"This Is How I Earned My Name 'CRASH'" "There I Was Diving Out Of 30,000 feet..."
The L-Birds Put On A Beautiful Display Corsair --- Bearcat --- Wildcat
A great time was had by all!

Home